News
01.07.2020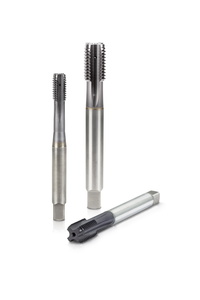 WEXO Präzisionswerkzeuge GmbH from Bad Homburg has completely revised its tap range for machining abrasive, short-chipping materials up to 45 HRC. These materials include, for example, cast iron materials such as GJL, GJS or GJV, aluminum-silicon cast alloys with a high Si content and high-strength short-chipping steel materials.
The taps of the GG-H-FT family are characterized by
a stable and straight flute geometry
a HSSE-PM tool material with maximum toughness and wear resistance
a TiAlN-based coating with high red hardness and the possibility of dry and MQL machining
an internal coolant supply with axial (IKA) or radial (IKR) outlet (also available without internal coolant supply)
Tapping up to 3xD thread depth
Usability for through holes as well as blind holes
The program includes the thread types metric coarse pitch (M), metric fine pitch (MF) and Whitworth thread (G). In the metric range, the two chamfer types C and E are already included in the standard program.
The new taps GG-H-FT are now available from stock.