News
04.02.2020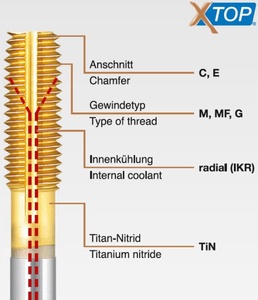 High-alloy steels, such as stainless or heat-resistant steels, are, due to the extreme demands on their properties, optimised with appropriate alloying elements like chrome, nickel, molybdenum, tungsten or vanadium. Depending on the requirement, resistance to heat, corrosion, acids and wear or other material properties will improve in this way. The high alloy content, however, usually has a negative effect on the machinability and formability of the material. Due to their ductility, stainless steels are, among other things, difficult to machine and often cause problems in the production of threads.
Many years ago the company WEXO Präzisionswerkzeuge GmbH from Bad Homburg, member of the global OSG Group, specialised in the machining of these materials and developed and launched a specific, comprehensive range with the name "XTOP" for drilling, milling and tapping.
Now the range of XTOP threading tools is complemented by a new series of fluteless taps which allows the economical and process-reliable production of internal threads into exactly these materials by means of thread forming technology.
The optimised polygon shape with the corresponding number of lubricating grooves, an especially treated TiN coating and the applied HSSE-PM cutting material not only lead to an up to 30% lower torque (compared to conventional forming taps), but due to this also to more process reliability and a longer tool life.
The forming taps designed for drilling through holes and blind holes up to a thread depth of 3 x D are available for metric standard threads (M), metric fine threads (MF) as well as Whitworth pipe threads (G) in the initial phase. Metric threads will also be available in the two preforming conical shapes C, E and the tolerances 6HX, 6GX as well as a version with radial coolant outlet (IKR) for even better performance when drilling through holes or blind holes. Our range covers metric threads from M 1 to M24 and fine threads from M 4 to M24 with different pitches. Pipe threads will be available from G 1/8 to G ¾.